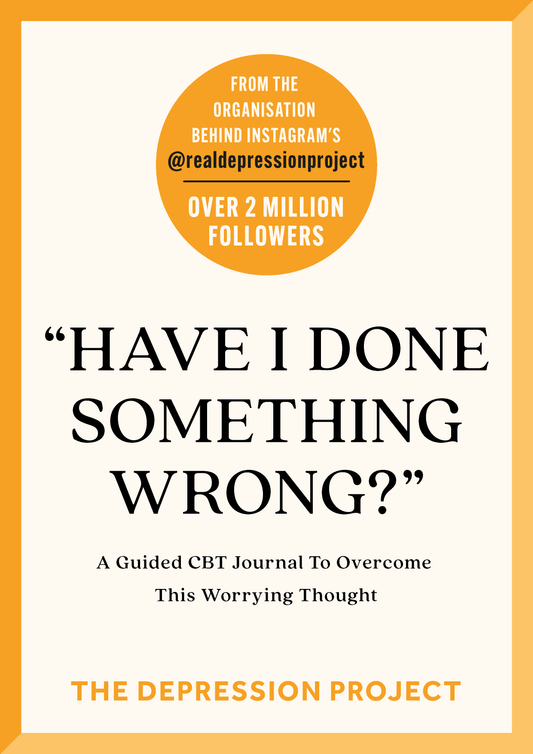 "Have I Done Something Wrong?"
Regular price
Sale price
$7.95 USD
Unit price
per
Save Over 60%
Sold out
You can choose to buy this journal either by itself, or as part of a series to save over 60%!
Do you often worry "have I done something wrong?"
In early 2022, The Depression Project posed a question to our 3,000,000+ person social media community:
What worrying thoughts are most commonly associated with depression, anxiety, and other mental illnesses?
Thousands of people responded, and one of the most common worrying thoughts people mentioned was:
"Have I done something wrong?"
Unfortunately, this can indeed be a very natural thought for people with anxiety in particular to experience, and it can be triggered in many different situations, such as:
When someone doesn't respond to a message straight away;
When there's a change in someone's facial expression or tone of voice;
When someone's mood seems different from usual;
When someone acts differently to the way you'd expect them to;
When someone reduces or cuts off contact with you.
If you can relate, then since no human being is perfect, in some situations when you find yourself worrying "have I done something wrong?", the answer may in fact be "yes".
However, in many situations – or perhaps even most situations – you genuinely haven't done anything wrong at all – in which case, rather than serving any useful purpose, this worrying thought is doing nothing but causing you to feel unnecessarily on edge, stressed out and/or panicked.
And, for this reason, we've put together this cognitive behavioural therapy-based journal, in order to:
Help you determine whether or not you actually have done something wrong;
Help you silence this worrying thought when you haven't done anything wrong, and prevent it from fuelling your anxiety, depression and/or another mental health issue.
Answers to frequently asked questions