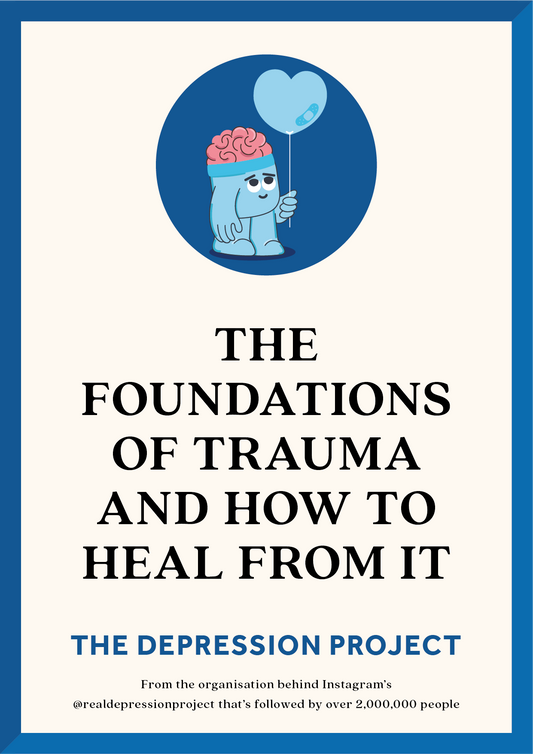 What Would Life Be Like If You Healed From Trauma?
As we often hear from members of The Depression Project's 3,000,000+ person social media community, trauma can stem from many, many different experiences - including, for example:
Physical abuse;

Mental abuse;
Bullying;
The passing of a loved one;
Serious illness and/or injuries;
Important relationships ending;
Discrimination;
Impoverishment;
Injustice;
War;
Natural disasters.
And, as we also know from interacting with countless people in our community who are living with trauma, given how complex it can be, it's extremely common for people to:

Have lots of questions about trauma and all the ways it's impacting them;

Not have a clear, step-by-step plan they can follow in order to heal from trauma.
So, for these reasons, professional counsellor & Depression Project co-founder Mathew Baker sat down with Somatic Experiencing Practitioner and Trauma-Trained Life Coach Sarah Baldwin - in order to talk to her about trauma and how to heal from it. To accompany this interview as well, The Depression Project also created a detailed, in-depth workbook to guide you through implementing the roadmap to heal from trauma that Sarah presents in her interview!
Here Is Exactly What You'll Learn:
Mathew's interview with Sarah lasts for close to two hours, and in it, Sarah talks about:
How trauma is NOT an event - but rather, how an event overwhelms our body's capacity to process what is happening.
What some of the common - but not-so-obvious - experiences that can lead to trauma are.
Why the same event(s) can result in trauma for one person but not another.
How trauma gets "stuck and stored" in your body - and why having trauma does NOT mean that you are "broken" or that there is "something wrong with you".
How it really is possible to let go of trauma and heal from it.
Why you may not be able to remember some or all of a traumatic event; why you don't actually need to in order to heal from trauma; and why your memories may start to come back as you begin to heal from trauma.
How at its core, healing from trauma involves showing your body that what happened is over, and that now, you are safe.
How to regulate your nervous system in order to feel safe.
Additionally, like we also said, this interview is accompanied by an in-depth workbook - that expands on a lot of what Sarah talks about in her interview, and guides you through implementing the roadmap to heal from trauma that Sarah presents. By the time you've completed this workbook, you will have your own personalised blueprint that you can follow in order to heal from trauma!
FAQ #1:

Why should I be confident that Sarah's interview and the accompanying workbook will help me?

Sarah is not only an experienced, trauma-informed practitioner, but as she touches upon in her interview, she has also been through and healed from trauma herself. As a result, she has a first-hand understanding of what you're going through, and knows the exact steps you need to follow in order to get better. Additionally, she also has a very warm, gentle, caring nature, which we believe will help you to feel safe and comfortable listening to her.

If you'd like to learn more about Sarah, then you can do so by visiting her website, or by checking out some of the content on her Instagram page - where she's followed by over 80,000 people.
Furthermore, we also believe you'll find the workbook that accompanies Sarah's interview extremely helpful as well, since not only is it based on Sarah's expert teachings, but it's written with the warmth, care, encouragement and insight that, with 3,000,000+ followers on social media, The Depression Project has become renowned for :)
FAQ#2:

How will I access Sarah's interview, and what format does the accompanying workbook come in?
As soon as you've completed your order, we'll provide you with a private link to watch Sarah's interview.
As for the accompanying workbook, it comes in PDF format - which you will be able to download instantly after purchase, and then print off at your home, office or local printer :)
FAQ #3:

 What if I give this interview and workbook a try but I don't like it?
We're extremely, extremely confident that you're going to find Sarah's interview and the accompanying workbook immensely helpful. But, just in case you don't, you're protected by The Depression Project's 60 Day, No-Questions-Asked, 100% Moneyback Guarantee - to completely put your mind at ease.
If you have any questions about Sarah's interview or the accompanying workbook, then please feel free to click here and contact us so that someone from our friendly team can answer them for you :)
Otherwise, we hope you choose to watch the interview and complete the workbook, because we know that you're going to find doing so really, really helpful!
All our love,
The Depression Project Team.