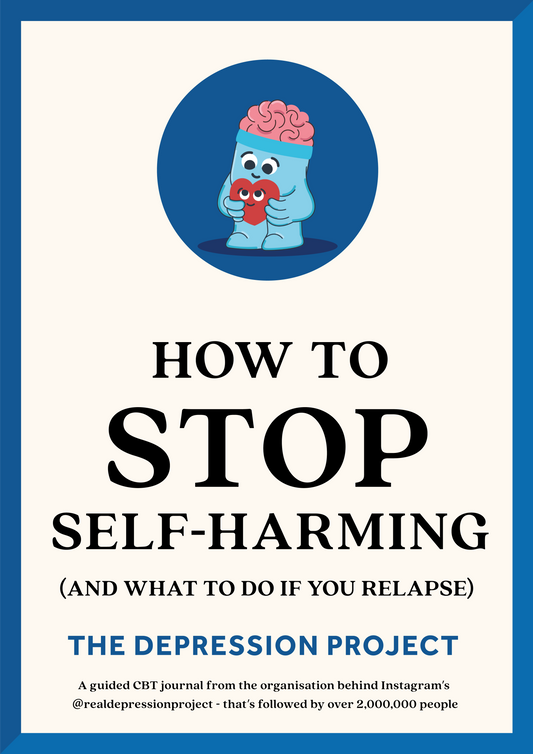 Would you like some help to break out of the self-harm cycle?
Sadly, as we hear from members of The Depression Project's 3,000,000+ person social media community every single day, it's very common for people fighting depression to engage in self-harm. And, this is very understandable, because, to quote some of our community members:
"Self-harm is a distraction from the pain of depression."
"It's a way of making me feel in control when everything else in my life is so chaotic."
"Self-harm is my way of releasing all of the anger and hatred I have towards myself."
"Sometimes I feel so numb that I just need to feel something ... anything."
"I don't know any alternative way to express my feelings and the pain I'm holding onto apart from cutting."
"I find that the physical pain of cutting is more manageable to focus on than the emotional pain of my depression."
In saying that, however, while self-harm can make you feel better in the short-term, as you can likely relate to, it also comes with negative, long-term consequences. In particular, these commonly include:
Negative thoughts – such as, for example, "I'm such a failure for self-harming again", "I'm so hopeless and pathetic", "this is why I'll never get better", "my scars make me look so ugly", "I'll never be strong enough to overcome depression", and/or "I'm so unlovable – who could ever love me like this?"
Painful emotions – such as, for example, shame, guilt, self-hatred, feelings of worthlessness, disappointment and/or regret.
Environmental / lifestyle problems – such as, for example, the gradual erosion of your relationships over time (often as a result of socially withdrawing due to being ashamed of your scars and not wanting anyone to see them, and/or due to worsened symptoms of depression as a result of self-harming).
Health / physical problems.
And, not only that, but all of these consequences of self-harm will of course continue to fuel your depression – which sets into motion a vicious, vicious cycle:
Why We Created This Journal
Because self-harm ultimately ends up making your depression even worse, we've put together this cognitive behavioural therapy-based journal, in order to help you:
Understand exactly why it's so difficult to stop self-harming when you're in a depressive episode (even if you're highly motivated to do so);
Know the steps you need to take in order to stop self-harming;
Know what to do if you relapse and self-harm.
FAQ #1:

 What format does this journal come in?

This journal comes in PDF Format - which you will be able to download instantly after purchase, and then print off at your home, office or local printer :)
FAQ #2:

 Why should you feel confident that this journal will be really helpful?
This journal is grounded in cognitive behavioural therapy - which in case you don't know, is a leading form of treatment for depression, anxiety, panic attacks, phobias, personality disorders, and a wide range of other mental health issues.
Additionally, this journal is also written with the warmth, care, encouragement and insight that, with 3,000,000+ followers on social media, The Depression Project has become renowned for :)
FAQ#3:

What if you give this journal a try and you don't like it?
We're extremely, extremely confident that you're going to find this journal immensely helpful. But, just in case you don't, you're protected by The Depression Project's Personal Guarantee To You!
Any Questions?
If you have any questions about this journal, then please feel free to click here and contact us so that someone from our friendly team can answer them for you :) 
Otherwise, we hope you choose to get this journal, because we know that you're going to find it really, really helpful!
All our love,
The Depression Project Team.