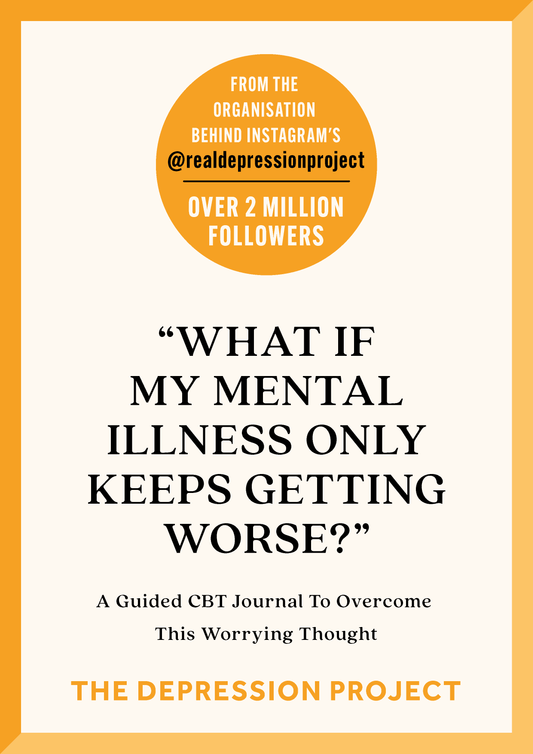 "What If My Mental Illness Only Keeps Getting Worse?"
Regular price
Sale price
$7.95 USD
Unit price
per
Save Over 60%
Sold out
You can choose to buy this journal either by itself, or as part of a series to save over 60%!
Do you ever worry that your mental illness will only keep getting worse?
According to The Depression Project's 3,000,000+ person social media community, "what if my mental illness only keeps getting worse?" is one of the most common "what if ... ?" worrying thoughts that people with depression, anxiety, and other mental illnesses experience.
And, this is very understandable, since when you've been struggling with depression, anxiety and/or another mental illness and over time, your condition has been deteriorating, it can be natural to worry that this trend will inevitably continue – particularly if:
You feel like you've "tried everything" to get better, and nothing has worked;
You feel powerless against your mental illness, and moving forwards, you don't know what steps you should take in order to fight back against it.
However, as natural as the worrying thought "what if my mental illness only keeps getting worse?" can be, it's important to note that just because your mental illness may have been getting worse up until now, it does not mean that it will inevitably continue to do so.
And, in order to help you see this, and in order to help you better cope with and in time silence this worrying thought, we've put together this cognitive behavioural therapy-based journal for you. As you will see, it will focus on:
Helping you to feel more hopeful that rather than continuing to get worse, your mental illness can actually get better;
Helping you to channel this worrying thought towards taking proactive steps to get better;
Once you're taking proactive steps to get better, helping you to stop unproductively ruminating on this worrying thought – which will result in you feeling much less uncertain, fearful, panicky and/or hopeless.
Answers to frequently asked questions