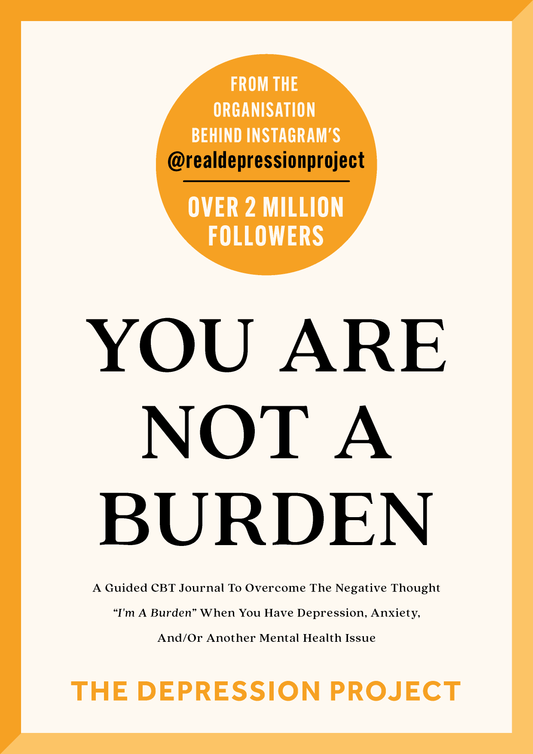 "I'm a burden is one of the most painful thoughts you can think" - do you agree?
According to The Depression Project's 3,000,000+ person social media community, if you have depression, anxiety and/or another mental health issue, then it's extremely common to think "I'm a burden", because:
You may think that you're dragging your loved ones down and putting a damper on their lives;
You may think that your loved ones would prefer- and be better off doing other things rather than supporting you;
You may notice your loved ones shouldering some – or perhaps most – of what would otherwise be your responsibilities (since at this point in time, they're too much for you to undertake).

In saying that, however, the negative thought "I'm a burden" is just that – a negative thought – as opposed to a fact. And, for this reason, we've put together this cognitive behavioural therapy-based journal, in order to help you:
See for yourself that this negative thought is not true;
See for yourself that you are so, so much more than what your mind is telling you that you are.
FAQ #1:

Why should I be confident this journal will help me?
This journal is grounded in cognitive behavioural therapy - which in case you don't know, is a leading form of treatment for depression, anxiety, panic attacks, phobias, personality disorders, and a wide range of other mental health issues.
Additionally, this journal is also written with the warmth, care, encouragement and insight that, with 3,000,000+ followers on social media, The Depression Project has become renowned for :)

FAQ #2:

 What format does this journal come in?
This journal comes in PDF Format - which you will be able to download instantly after purchase, and then print off at your home, office or local printer :)
FAQ #3:

 What if I give this journal a try but I don't like it?
We're extremely, extremely confident that you're going to find this journal immensely helpful. But, just in case you don't, you're protected by The Depression Project's 60 Day, No-Questions-Asked, 100% Moneyback Guarantee - to completely put your mind at ease.
If you have any questions about this journal, then please feel free to click here and contact us so that someone from our friendly team can answer them for you :)
Otherwise, we hope you choose to get this journal, because we know that you're going to find it really, really helpful!
All our love,
The Depression Project Team.